Products meeting the search criteria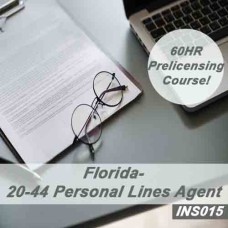 Buy this course - This is an entry-level course for insurance agents. Immediate employment (due to COVID-19 Florida is currently delaying the state exam - get a temporary license). After 1 year with this license, you can use a 40-hour conversion course to earn your 2-20 license. Take this 60-hour course then work one year (appointed by an agency) then take 40-hour conversion course and you don't have to take the 200-hour course to earn your 2-20 General Lines agent license. (Conversi..
This course has been created in hopes of helping you have a better understanding of the Florida laws related to real estate. This course is taken by sales associates, broker associates, and brokers. You cannot list and sell real estate to the public without knowing the laws and rules. This course, Core Law, is a continuing education requirement by the State of Florida as part of your 14 hours of continuing education that must be completed every two years. Why do you need to revie..
Showing 1 to 2 of 2 (1 Pages)