Jeffrey King - Has been a licensed life, health, and general lines agent since 1989. His professional insurance career began with Prudential Insurance and included several years as an agent for an independent multi-lines agency before opening his own insurance agency. He is currently President of King Insurance & Financial Services, Inc. in Cape Canaveral, Florida.

Mr. King's instructional career began in 1996 as an Adjunct Instructor for Brevard Community College (now Eastern Florida State College). He has taught several college-level business classes, including "Intro to Business "and "Business Management". Currently, he teaches insurance pre-licensing classes, as well as continuing education classes at Brevard Community College, Polk Community College, and Valencia Community College.

Mr. King received a BS in Business Administration from the University of Florida in 1981 and an MBA from the University of Central Florida in 1987. He is currently a member of the National Association of Insurance and Financial Advisors and a member of the National Association of Health Underwriters. He lives with his wife and son in Cocoa Beach, Florida and in his leisure time enjoys traveling and playing on the beach.

---
This course focuses on the role of the prospective producer, representing an insurer as to life insurance and annuity contracts. The course covers general concepts including underwriting, types of policies, provisions, riders, options, and exclusions. It explores personal, family and business use of life insurance products, as well as major tax considerations. The course concludes with an overview of state and federal laws and regulations governing insurance transactions and dealings with the pu..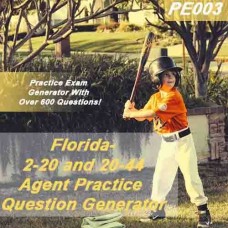 Practice Exam generator with over 600 questions! The Florida General Lines Agent (2-20) and the Personal Lines Agent (20-44) exams are very challenging. An in-depth knowledge of the material is essential. This course is based on the latest edition of the Florida General Lines Agent and Customer Representative Study Manual. You may want to use this course to review your knowledge of all sections of the manual or choose to concentrate on just the sections that you feel you need to study more. S..
Showing 1 to 2 of 2 (1 Pages)