Do you need help preparing for your state exam? Take one of our Tutorials, Pass Prep Cram courses, or Practice Exams. These courses are available to help you make your final preparations for your state exam. Receive immediate access (as soon as your payment is cleared and you receive the automated email) to courses when you purchase online through this catalog (using credit/debit).
The Review / PassPrep Course uses a question and answer model unique to OLT that provides students only with correct information. The course also includes a course map for easy navigation. The main goal of this course is to prepare students for the state licensing examination by building their confidence.
Our PassPrep courses are designed to give you confidence. This PassPrep course is better than "flash" cards and better than simple practice questions. Using a database of over 800 questions and over 4500 screens of information this course prepares the student to sit for state insurance license exams with confidence. The special design of this course insures that the student is exposed to only correct information.

The Practice Exam Generators are an ideal way to evaluate your level of knowledge prior to taking the actual state insurance agent exam.
Practice exams are an ideal way to evaluate your level of knowledge prior to taking the actual state insurance agent exam. OLT has created a complete Composite Training Solution for those entering the Insurance Industry as professional insurance agents.
OLT has separated the practice exams into the three primary domains of knowledge examined on state agent licensing exams. The domains of knowledge are Life, Health, and Annuities. This permits students to focus their studies.
Each time you start a practice exam, a new random set of 35 questions will be drawn from the question pool, placed in a unique order with possible answers also randomized.
The practice exam automatically scores your responses. For example, if you select a wrong answer to the first question, and then select the right answer your score will be 50%. Each time you select a right answer your current score is reported. After you have answered all the questions correctly, your total score will be reported, along with the time taken to complete the practice exam.
The Tutorial is a review course that takes an in-depth look at Property and Casualty (or Life and Health etc.) so that the student can be prepared not only for their state exam but for their career in the insurance industry. The course includes a course map for easy navigation and three exams to help the student gauge their comprehension. (Content is similar to Pre-Licensing courses).
OnLine Training strives to provide high quality Exam preparation and insurance training courses at an affordable price. We treat each of our students individually while providing a quality insurance education available online 24 hours a day 7 days a week to professionals and businesses.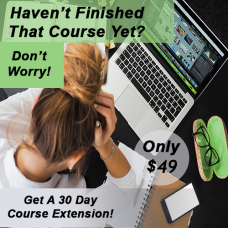 Haven't finished your course yet? Only one day left before it expires? Here is the solution.Purchase a course extension and receive an additional 30 days to complete your course. NOTE: You will be required to select one of three choices: One Month (zero EXTRA dollars added to the base price of $49.00 for a total of $49.00), orTwo months ($49.00 EXTRA dollars added to the base price of $49.00 for a total of $98.00), orThree Months ($98.00 EXTRA dollars added to the base price of ..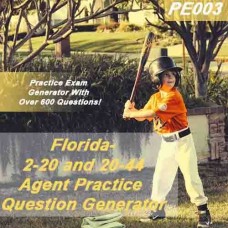 Practice Exam generator with over 600 questions! The Florida General Lines Agent (2-20) and the Personal Lines Agent (20-44) exams are very challenging. An in-depth knowledge of the material is essential. This course is based on the latest edition of the Florida General Lines Agent and Customer Representative Study Manual. You may want to use this course to review your knowledge of all sections of the manual or choose to concentrate on just the sections that you feel you need to study more. S..
Showing 1 to 2 of 2 (1 Pages)