Let us help you earn your Insurance License!
Excel in the insurance industry with OLT's premier online courses! Our courses are designed to assist individuals interested in entering or continuing in the insurance profession. Our students gain an accurate understanding of insurance theory and practice along with a thorough knowledge of state laws and rules. Let us help you reach your ultimate goal of obtaining and maintaining your insurance license.

State-approved pre-licensing courses and bundles.
These courses are structured with the right content, delivered in small quantities, with learning assured through frequent fill-in-the-blank questions, elements of information emphasized, and instructor guided learning. Several tools are provided to make your learning straightforward and comprehensive. Course instructors and technical support are readily available by phone or email.
Receive immediate access (as soon as your payment is cleared and you receive the automated email) to courses when you purchase online through this catalog (using credit/debit).
FLDFS Provider #366468
With your Life, including Variable Annuity (2-14) license, you can be appointed by an insurer or Insurers to represent their company and sell life insurance and annuity contracts. You can also be the owner of your own insurance agency or become an agent for an agency.Life insurance agents are appointed to transact/sell life insurance, fixed-dollar annuity contracts, and variable contracts by the same insurer. Agents can also sell annuity contracts, including, but not limited to, fixed or variabl..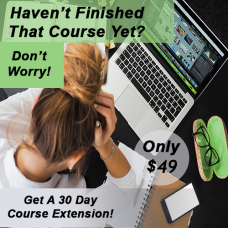 Haven't finished your course yet? Only one day left before it expires? Here is the solution.Purchase a course extension and receive an additional 30 days to complete your course. NOTE: You will be required to select one of three choices: One Month (zero EXTRA dollars added to the base price of $49.00 for a total of $49.00), orTwo months ($49.00 EXTRA dollars added to the base price of $49.00 for a total of $98.00), orThree Months ($98.00 EXTRA dollars added to the base price of ..
Sale
This 60-hour pre-licensing course is designed to prepare a student to become a 2-15 Health and Life agent without the loss of production income and time. Work at your own pace with your instructor available via e-mail or telephone. Upon successful completion of this course, you will be eligible to sit for the state examination. This course is designed and taught to comply with the State requirements for the Health and Life (including Annuities and Variable Contracts) Agents (2-15) Stat..
Showing 1 to 3 of 3 (1 Pages)